Learn German through our own events and intercultural exchanges in Hamburg/Germany.
Language courses for foreigners (eg British, American, French) at home or in the training rooms of your company. Learning German through intercultural exchange with a personal, intensive care.
German lessons
• course • beginner • advanced •
Hamburg
• German • study • foreigner • English • American • French at home • at the company • at school • positive • teaching • environment • learn German • events • intercultural • exchanges • personal • intensive care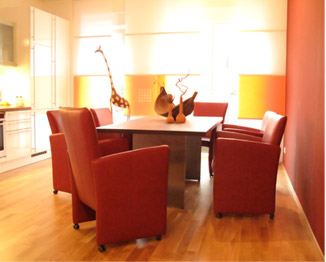 Who we are
The company petra haardt has set itself the goal of creating a teaching environment which differs in very positive ways from the traditional workaday school routine. We have made it our business to care personally and intensively for our clients.
Application-oriented language instruction and the interests of our learners are both in the foreground from the outset and constitute the basis of our success.
Over the years we have gained experience in dealing with foreign clients and especially with the integration of families.
Our philosophy
We want to convey the feeling to our foreign fellow citizens that they are not alone and isolated. For that reason, we help them to feel at home in a foreign country by their acquiring a command of our language and we help them to see their stay with us as a chance which they can enjoy.
Our method
We see to it that communication is the main focus and the material used is authentic and adapted to the needs of the individual learner. We also take differences among learner personalities into consideration and encourage learners to determine the learning content themselves. Through group excursions for all learners (from beginners to advanced-level learners) the newly-learned language elements can be immediately applied and consolidated. During our own events e.g. cooking together the learners vocabulary is expanded while their knowledge of grammar is improved.